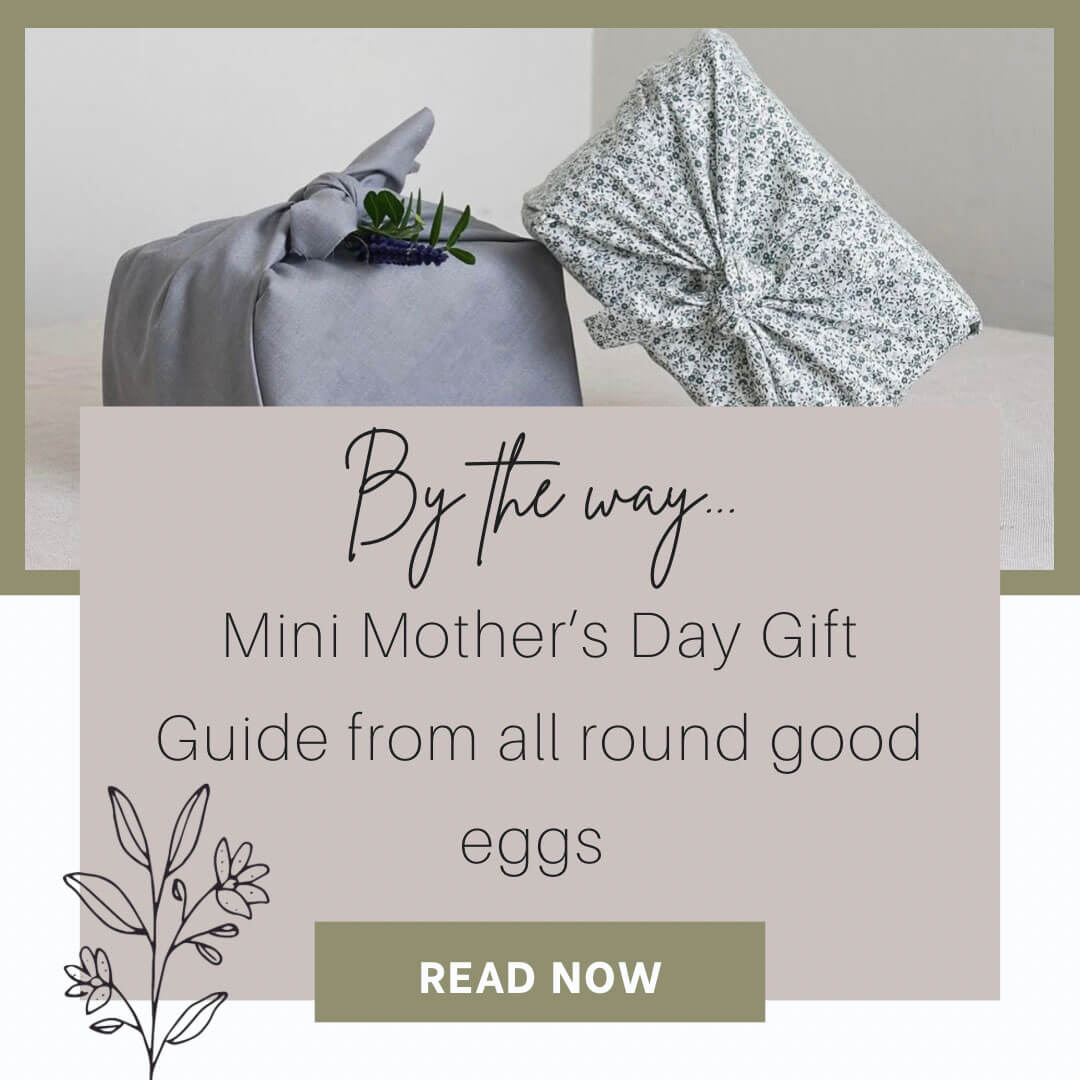 Mini Mother's Day Gift Guide From All Round Good Eggs
I haven't created a gift guide in years but enjoyed a little rummage around the shops of some of my favourite small businesses, to see what goodies they have which would be perfect for the great women in your life. 
I think Mother's Day is a day to celebrate the ever there Mama or the 'like mums' in your life - the Aunts that treat you like their own, the Grandmas that sellotape pound coins into your cards (well in my day they did!) or the Sister that practically raised you. 
Not only do I think these products are lovely and I would love to receive myself, I love what the shop owners stand for and think they are all round good eggs. So you can be safe in the knowledge that your gift comes with my stamp of 'awesome lady' approval.
I was actually gifted some of these by Kate of Kate Moby last year when she thought I needed a little pick me up. I adore them. Made from 100% recycled paper and personalised either through printing or leaving space for you to write your own details, these super cute large seed envelopes are the best for seed collection, storage and for getting organised. I packed mine with Sweet Pea pods so fingers crossed for some success! 
Lauren's candles from Earth Aromas are scents sent from heaven. I am not being biased (yes, yes, she is my niece) but I promise when I say that as BIG candle fans, my husband and I both love these. They make our living room smell dreamy. Although I could have picked many from the shop as she has some really unique options, I chose Sleep Relief coz you know, none of my friends with kids are sleeping :) A vegan and cruelty free soy candle that can be used as a mini vase after use. Currently 100% of the profits for this candle are going to The Red Cross. Incredible. 
Supporting the Woodland Trust with each order, Ruth from Bluebell Lane Jewellery is a queen of good egg-ness. I love the simplicity of the bracelet, which can be personalised or not, and the curve of the bar to fit nicely onto your wrist. All of the jewellery she creates is made from 100% recycled silver and you can choose to offset the carbon emissions of your shipping. I think this is fabulous and will be researching this for The Letter Loft. 
We could all use some self care and the lovely Shauna from The Natural Beauty Pot has created a really nice little set to encourage some 'me time'. Choose from Citrus, Mint or Rose and you receive Bath Salts, Lip Butter, Wax Melts and some chocs. I have been a customer for a while and as an extra shoutout can recommend the Lavender Facial Oil, if like me, your skin is drier than the desert. 
5. Biodegradable Dried Flower Wreath
Yep, me. Choose from a fully compostable willow base or reusable metal one, our brand new Spring Heart Wreaths are packed with homegrown and well sourced dried flowers to add a pop of cosy to any home. No dyes or chemicals are used on the flowers and the wreath is packaged 100% plastic free. Our stickers are even compostable. I especially love this yellow and white version which has Spring 2022 vibes. 
I hope you like my little gang and have a good long look around their websites, as this is just a snippet of the beautiful work they do. I am sure you will find something for Mother's day and for many occasions to come.