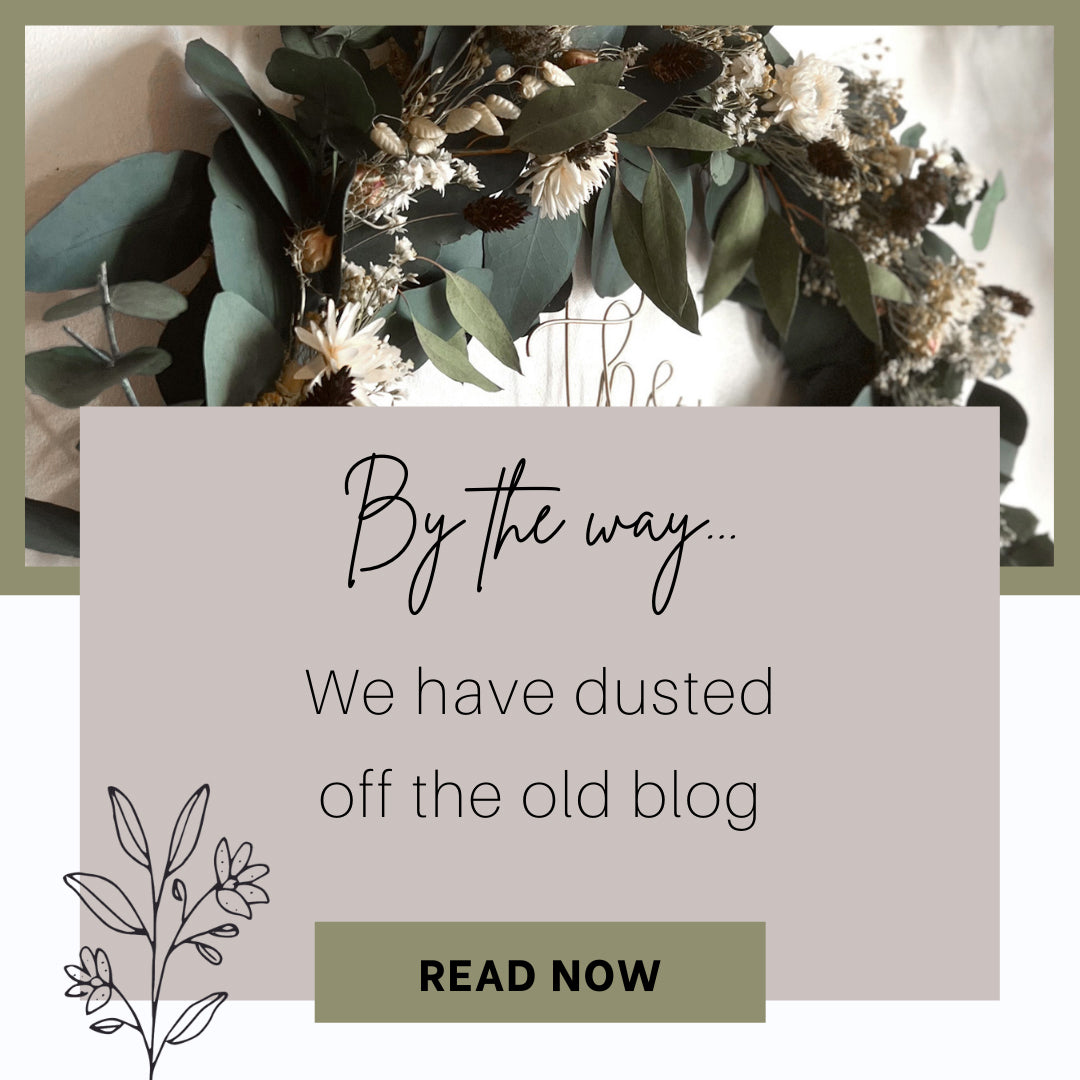 The Launch of 'By the way...'
I don't think we can begin without acknowledging the fact that this blog, now called 'By the way...' is having a mighty dust off. When I first opened shop in 2013 I used to blog more often but the content was pretty random and often wasn't relevant to anything I was doing in business. I think my only fan was my friend Charlotte. Hi Charlotte. 👋🏻
Here we are in 2022, nearly 9 years in and I am getting it together to showcase to you what The Letter Loft is all about. Whilst keeping relevant! (I think I actually blogged about serial killers at one point. I mean, that's fine but I was selling letters made of moss).
It is nice to meet you
If you are new to us (where have you been all my life?) then let me just give you a brief intro of who you are dealing with. We are a family business based in Herefordshire, mainly consisting of Me (Jodie), Dad and Neil my husband, who likes to stay hidden.
I am the founder and run all the mechanics of the business as well as the designer and 'florist'. Note the air quotes. My Dad (Robert, but you can call him Dad) is the wire artist and bends the most beautiful wire art using the strongest stainless steel. Hercules stuff. Neil helps me take on the load; helping with packaging, powder coating and keeping the workshop comfortable to work in; in-between his job as a sports coach. I also rope in as many nieces and sisters as I can when we get busy. 
We make home, event and gift items that mainly consist of cake toppers, wire wall art, wreaths, name signs, window garlands and mugs.

Industrial & Botanical
Our thing has always been 'Industrial & Botanical' - even before it really was. I started as The Moss Letter Company selling moss decor, but every photoshoot was often more about the floral props I could use. I would drag my florist friend Hayley to the shoots with me and the passion was just as much to create a beautiful floral-y image, as it was to capture what I was actually selling. The clues were there early. 
It wasn't until 2017 that I added flowers to our wire and moss range (I had to trawl through Instagram to find that out). That Summer we launched a Moss Wreath with artificial eucalyptus, ivy and some dried Scabious Stellata. I wouldn't have known then what a Scabious was if someone had shoved it up my nose. (It is satisfying to realise that I coincidently sowed these in the greenhouse today).
A new passion
It was that same year that we bought our first house with an established but wild garden. It was like seeing a garden for the first time - all that potential. At age 37, I had previously not shown much interest in gardening. I remember as a young girl saying to my Mum and Nanna that I would never like plants as it was boring. I wish now I could go back and listen to their hours of talking all things house-plant. Both of them were and are (my Nanna has passed) fantastic at growing and taking care of indoor plants. I covet my Mum's conservatory jungle.  
I have practically kept the Herefordshire garden centres in business ever since buying our home. My first harvest from a seed I had sown myself was a Radish. I have the video of me plucking it out of the ground and it still feels like magic now. I am sorry for the 37 years where this feeling wasn't on my radar. 
As my passion for gardening and vegetable growing was increasing, so was my joy of flower arranging and flower decor. These passions always find their way into The Letter Loft.
The Letter Loft an extension of me
I had the courage (audacity?) to launch a range of faux bouquets and although this idea tanked then (fair enough), it lead to me adding the artificial flowers to our cake toppers and designing our very first Floral Name Sign. These were a hit and I found myself working with flowers everyday.
In 2018, we rebranded and fine tuned our offerings. We came into our own on the 'botanical and industrial' tagline that I had already been using for years. 
Like many, how we live as a household has changed. We became vegetarian in 2017; also keen composters, we grow our own veggies and make a conscious effort to reduce our waste. I have focused on making The Letter Loft as light-footed as possible and we now have 100% plastic free packaging. I love our sugar-cane stickers from The Green Label Company and beautiful tissue paper from Noissue which are biodegradable and compostable. I try and buy local/British as much as I can for anything we source. However, the biggest footprint is the faux flowers. 
A new vision
This lead to a decision last year to have a play around with dried flowers, with the hope that they will eventually replace the faux; ergo reducing our impact further. I had a successful first year of growing a few of my own and experimenting with drying them. They featured in our Autumn and Christmas ranges and the response has been encouraging.
It is my intention to be self sufficient with the dried flowers (supplementing with British growers when that isn't possible) and I invite you to share that journey with me, through this blog, as I enter year 2 of growing for drying. 
Finding joy when the world is a lot
I have wrestled with social media, my business and the new blog this past week. I have written and re-written a few posts and then deleted them as they seem inadequate with the situation currently facing Ukraine. Much like the start of the pandemic, sharing pictures of my dog and pretty flowers feels off. Sharing my concerns about a slow economy feels even more off, but that is my current reality. My business has never felt so non-essential but it is, on the other hand, wholly essential to me.
This quiet time in my business journey is giving me the space to think about what it is that matters to me, what I want to put out there into the world and what I can make/write/design that would bring you some happiness.
The last couple of years have shown that it is so important to be grateful and find your joy. When it can all feel underwhelming and overwhelming, quiet but busy, short but oh so long; finding that peace and joy is essential. So although I might battle with what is appropriate to share at the moment, I'll just be me and hope that it gives a little escapism from heavy news and heavy hearts.
* My friend Kate from Kate Moby shared a link to Jacks Fight Club today who are matching donations. Please check out their insta stories if you are looking for ways to help support Ukraine. 
What you'll find here
If you love a behind the scenes, get excited by green bean arches, have a hankering for some small business how to's, need a regular dose of beagle side-eye and are genuinely interested in cheerleading this small independent family business then I would be honoured to have you join us.
If there is anything you would like to know more about or see then please do comment below. 
Jodie x